photos: Alicia Kassebohm
Last Saturday the Berlin Alternative Fashion Week took its second spin. The focus of this fashion event outside the regular international fashion week schedule is on fashion that break the restrictions of wearability. Our guest author and photographer Alicia Kassebohm took a few impressions from the shows of Ivana Pilja, Field of Ponies, Bas Kosters Studio und Roman Ermakov as well as some backstage images. Discover the unconventional side of fashion after the click.
Fashion designer Ivana Pilja, graduate of the College of Design in Belgrade, Serbia, began the day of eccentric fashion with her opening show. Her skillfully created form and pattern effects are inspired by Japanese fashion and origami, complemented by face masks or striking hair pieces. The make up focussed on bigger black forms in the middle of the faces – reminding us of the terrific promotion stunt of Delhia de France from the Pentatones.
Going on with lots of patterns the show continued with Bas Kosters Studio. To sum up his collection: it was a big collage of designs, loads of glitter, lots of make up, flowers, monster masks, rubber gloves and even more. Naturally the designs evoked different associations like angry birds or hippies in the Occident.
Rather sporty and in subtle colors were the looks of Field of Ponies – a small independent label from London. But with fake fur, long hair or face applications the comfortable cotton clothes became real eye-catcher.
Roman Ermakov on the other hand led into the night with his varicolored black light figures. His models moved artistically and athletically, sometimes stiff, sometimes loose over the runway, being adorned from head to toe in Ermakov's suits.
My favorite impressions I got backstage: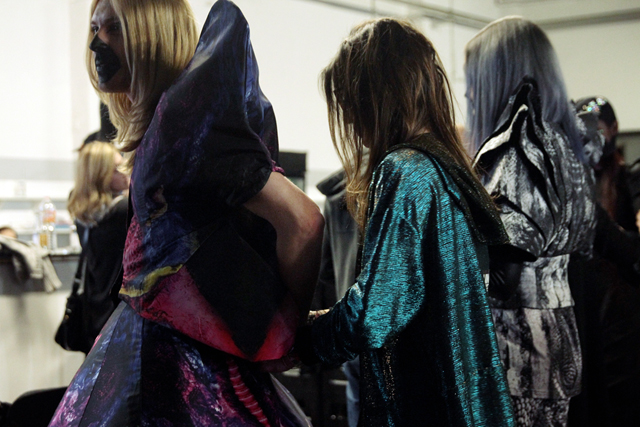 We can't wait to see the designs from all collections in some upcoming music videos, theater plays or editorials.

Alicia Kassebohm is a freelance photographer and communication design student at the Institude of Design Berlin. Last year she won the 3rd place of the Deutscher Jugendfotopreis. For iHeartBerlin she takes photos at various events and talks with interesting men about their goregous beards. She recently released her first photo book titled Beardicted.
More info: www.aliciaka.com