Fotos: Alicia Kassebohm
Am Samstag fanden zum zweiten Mal die Modenschauen der Berlin Alternative Fashion Week statt. Im Mittelpunkt: Mode, die keine Regeln kennt. Für uns war Alicia Kassebohm vor Ort, hat fotografiert und ein paar Gedanken aufgeschrieben. Ein paar Eindrücke von den Shows von Ivana Pilja, Field of Ponies, Bas Kosters Studio und Roman Ermakov, sowie ein paar Backstage Aufnahmen gibt es nach dem Klick.
Eröffnet wurde der Tag der exzentrischen Mode von Ivana Pilja, einer Modedesignerin und Absolventin des College of Design in Belgrad, Serbien. Ihre gekonnt inszenierten Formen- und Musterspiele sind von japanischer Mode und Origami inspiriert, die Looks durch Masken oder auffälligen Haarteilen abgerundet. Auch beim Make Up setzte man mit großen Schwarzflächen mitten im Gesicht auf Avantgarde – und erinnerte den ein oder anderen vielleicht auch an den grandiosen Album Auftakt von Delhia de France und den Pentatones.
Mit viel Muster, aber in unterschiedlichster Art und Weise angewandt, ging es auch bei Bas Kosters Studio weiter. Bei der gezeigten Mode handelte es sich hier um eine riesige, bunte Collage aus vielen Stoffen, viel Glitzer, viel Schminke, Blumen, Monstermasken, Gummihandschuhen und mehr. Und auch die Assoziationen zur Show waren interessant. Von Angry Birds und Hippies im Abendland war alles dabei.
Recht sportlich und in gedeckteren Farben ging es bei Field of Ponies zu – einem kleinen Independent Label aus London. Die bequeme Baumwollmode wurde dank fake Fur, langen Haaren oder aufgenähten Gesichtern zum Hingucker.
Roman Ermakov leitete mit seinen bunten Schwarzlicht-Figuren schließlich in die Nacht ein. Die von Kopf bis Fuß eingehüllten Models bewegten sich teils kunstvoll, wippend oder athletisch über den Runway.
Meine liebsten Backstage-Eindrücke: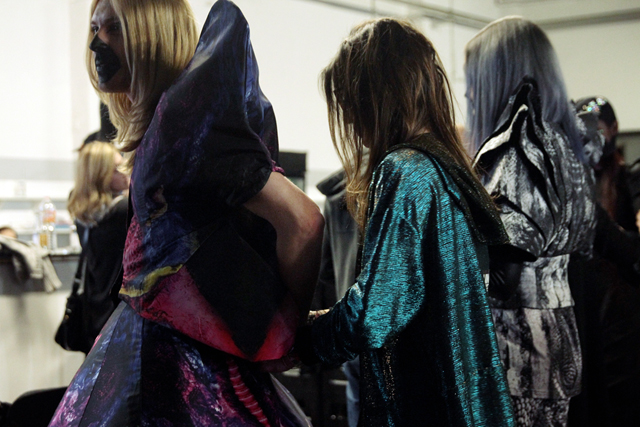 Wir warten schon darauf die Stücke alle Kollektionen demnächst in Musikvideos, Theateraufführungen und Editorials zu sehen!
Alicia Kassebohm ist freie Fotografin und Kommunikationsdesignabsolventin am Institude of Design in Berlin. Letztes Jahr hat sie den 3. Platz beim Deutschen Jugendfotopreis belegt. Für iHeartBerlin fotografiert sie die Fashion Week und diverse andere Events und spricht mit interessanten Männern über ihre prächtigen Bärte. Erst kürzlich ist ihr erster Bildband Beardicted erschienen.